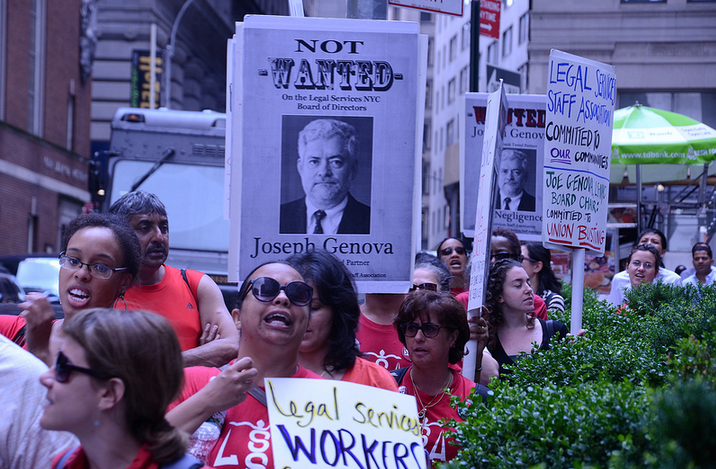 Striking members of the Legal Services Staff Association rallied outside the office of Legal Services NYC Board of Directors Chair Joseph Genova. Mr. Genova, partner at Milbank, Tweed, Hadley and McCloy and Board Chair since 2011, has forced LSNYC employees on strike for the first time in nearly 20 years.
Mr. Genova has sat on the LSNYC Board since 2000, formerly as treasurer, and has presided over a drastic reduction in the number of front-line staff providing direct legal services to low-income New York City residents. LSNYC employees have expressed concern that Mr. Genova, a partner and Pro Bono Coordinator at a firm where partner compensation tops $2.5 million, is removed not only from the work that the organization performs, but also from LSNYC's low-income clients and communities.
While he does not appear at the bargaining table, Genova is a driving force behind the positions taken by management in negotiations. LSNYC canceled negotiations scheduled for today after stating on Friday that they would return with a revised proposal to allow employees to return to work on behalf of New York City residents.