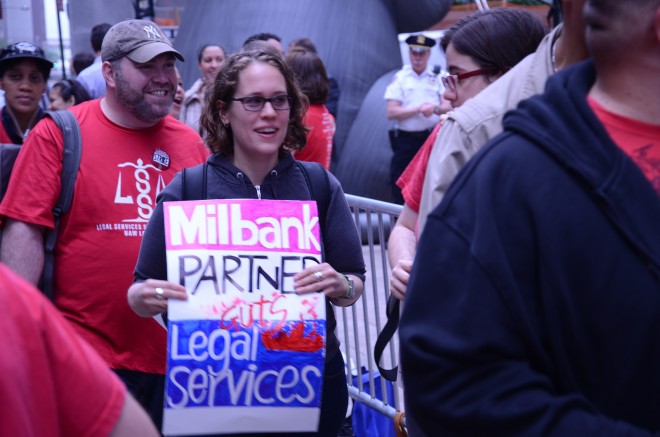 Striking members of the Legal Services Staff Association, NOLSW/UAW Local 2320 (LSSA) expressed shock and disappointment at statements made by Executive Director Raun Rasmussen last week. Asked about staff's concerns with Board Chair Joseph Genova's leadership of LSNYC, Mr. Rasmussen told a Thomson Reuters reporter "there's really no one more committed to the organization."
Staff responded immediately and forcefully. "I have worked for this organization for 42 years and it is unbelievable for anyone to claim that a millionaire corporate attorney is as committed as the workers who have actually chosen to spend their careers serving low-income clients every single day," said Evelyn Falcon, Executive Secretary at LSNYC's Brooklyn office. "It really adds insult to injury, considering that I am a cancer survivor, and Joseph Genova is trying to slash my health care."
Employees have raised serious concerns that Mr. Genova, a partner and Pro Bono Coordinator at Milbank, Tweed, Hadley & McCloy – where partner compensation tops $2.5 million – is out of touch with the organization's work and with low-income clients and communities. Members could not recall a time when Mr. Genova, a member of the Board for 13 years, visited a borough office during working hours, or interacted with any of the more than 40,000 low-income New York City residents who benefit from employees' advocacy each year.
Staff and clients also expressed concerns over Mr. Genova's attempts to impose a corporate revolving door model, which devalues experienced, career advocacy and degrades the quality of legal services. "It is really surprising that the Executive Director believes that a millionaire corporate attorney is more committed than career employees," said Monique Goodman, a Bronx resident and former LSNYC client. "I am chronically ill and wheelchair bound so when I was facing eviction, it was terrifying. But the experienced advocates in the Bronx calmed my fears and saved my home, and provided services that less experienced advocates could not have performed."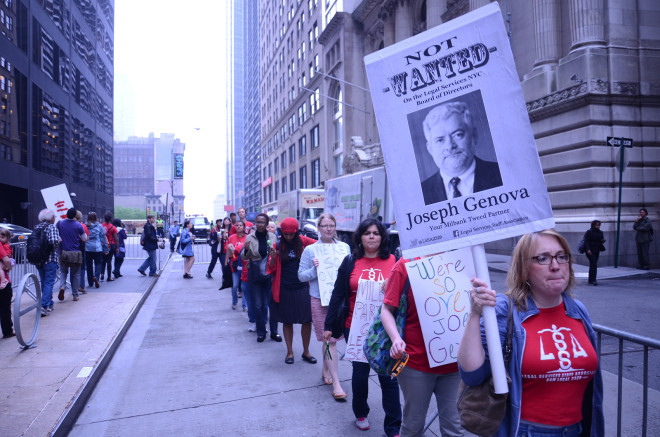 Mr. Genova, formerly Board Treasurer, has served as a Director since 2000 and has presided over a drastic reduction in the number of frontline staff providing direct legal services to low-income New York City residents. Various neighborhood offices in Manhattan, Queens, and Brooklyn, have been closed during his tenure.
"Our Executive Director's statement about Joseph Genova really is shocking," said Liz Bruno-Lopez, a receptionist and secretary at LSNYC's Bronx office. "I have lived in the Bronx community all my life and have worked in the Bronx office for over 39 years. It is hurtful to hear that our staff's commitment to our own neighbors and communities is being discounted in comparison to a lifelong corporate lawyer."
Meanwhile, employees and supporters will today launch Committed to Our Communities, a series of neighborhood events throughout the five boroughs, beginning in the Bronx Monday from 9:00 to 10:30 AM, and featuring rallies at Milbank Tweed, One Chase Manhattan Plaza, the office of Joseph Genova, on Monday, June 3, and Tuesday, June 4, from 12:00 PM to 2:00 PM.
"This is an opportunity to show Joseph Genova that it's the employees who are really committed to this organization, and that we will not let him undermine services to our clients," said Jim Provost, an attorney who has worked in the organization's Manhattan and Brooklyn offices for 28 years.
LSNYC employees are going into their third week on strike, after overwhelmingly rejecting demands for unprecedented concessions, including significant cuts to health care coverage for the most vulnerable members and families, a 29% reduction to 403(b) retirement contributions, and zero cost of living increases to salaries. At the same time, LSNYC refuses to guarantee that management will bear a proportionate share of any future layoffs that may become necessary. Currently, there is one manager for every three union employees citywide.
While he does not appear at the bargaining table, Mr. Genova is a driving force behind the positions taken by management in negotiations. LSNYC workers have been without a contract since July 1, 2012 and have been forced on strike for the first time in nearly 20 years.