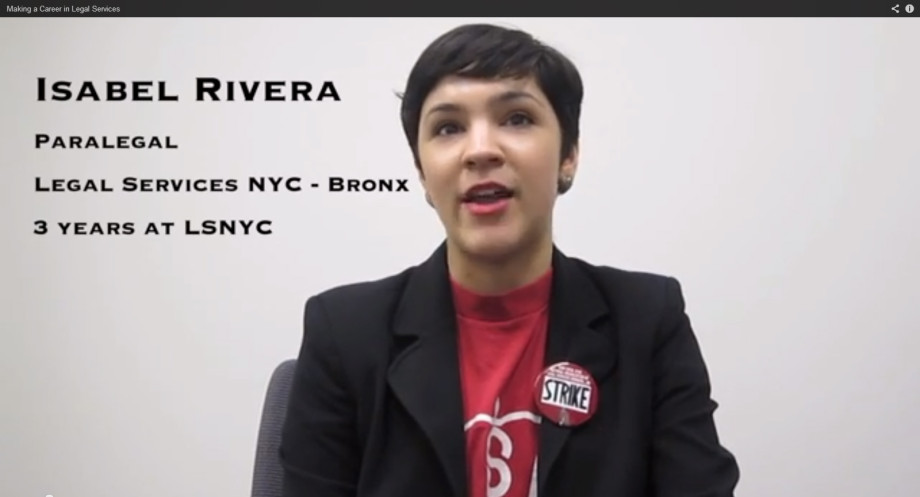 Striking members of the Legal Services Staff Association, NOLSW/UAW Local 2320 (LSSA), employees of Legal Services NYC (LSNYC), continue their Committed to Our Communities events by releasing a video entitled "Making a Career in Legal Services: Why We Do This Work." The video explains the motivations behind the decision to strike by the more than 200 employees of the nation's largest provider of civil legal services. "By asking us for these cuts, especially at a time when they can't substantiate the need for them, it is saying to these communities 'you don't deserve an attorney with experience, because we're not going to put in place a system that allows them to be here as a career,'" says Maura McHugh Mills, a senior attorney with eight years of experience in the Bronx office.
In the video, advocates speak forcefully about the effects that proposed cuts to benefits would have on the organization's ability to provide quality legal services to low-income communities. "What they're risking is the loss of the experienced, qualified attorneys who love the work they do, who love working in these communities," says Isabel Rivera, an advocate in LSNYC's Bronx office. "They're really risking losing the quality services that our organization provides."
The video calls for a resolution to the labor dispute. "We're asking management to come back to the table and give us a fair contract," says Anna Tavis, an attorney in LSNYC's Brooklyn office.
Legal Services NYC has forced its employees on strike for the first time in nearly 20 years and has taken the unprecedented step of cutting off striking employees' health care without notice. LSNYC employees on May 15, 2013 overwhelmingly rejected demands for unprecedented concessions, including significant cuts to health care coverage for particularly vulnerable members and families, higher employee payments to health care premiums, a 29% reduction to 403(b) retirement contributions, and zero cost of living increases to salaries. At the same time, LSNYC expects over $10 million in budget surplus at the close of 2013, yet refuses to guarantee that management will bear a proportionate share of any future layoffs that may become necessary. Currently, there is one manager for every three union employees citywide.
Members remain committed to reaching an agreement that allows them to return to work providing quality legal services for New York City's low-income families, elderly, and individuals. "I love the fact that we're in the community…we're staff members that resemble the community – I think that's invaluable," says Maribel Martinez-Gunter, an attorney at Manhattan Legal Services.