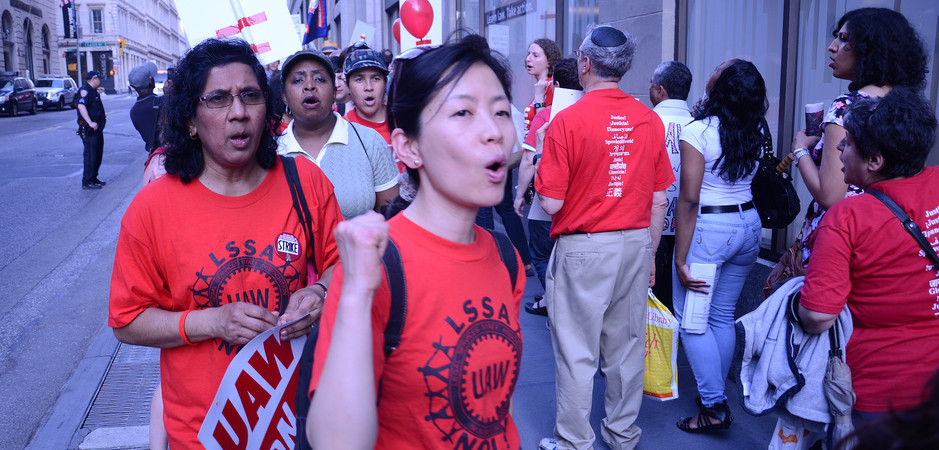 Check off Form
Click here to access the Check Off Form for new union members.
Region 9A Education Fund
The Region 9A Education Fund (Ed Fund) offers tuition reimbursement, access to existing classes, and even some classes tailor-made in response to requests by members:
Tuition reimbursement is available to members. Tuition reimbursement of up to $840/yr. is for undergraduate classes, and many UAW members have obtained their college degrees with the support of the Ed Fund. However, reimbursement benefits are not limited to non-professionals and other non-college graduates. A broad range of courses for certification (e.g. in Mandarin) as well as for college credit qualify for reimbursement, and this benefit is extended to attorneys among others.
The Ed Fund offers access to a number of existing classes, at varied levels of proficiency and with start dates in fall, winter and spring. These include Spanish, an assortment of computer skills, and college prep, as well as GED classes in both Spanish and English, and English as a Second Language classes. Access to existing classes are available not only to union members but to their families. The GED and ESL classes are also made available even to clients and associates referred by members. The Fund does not charge extra for any of these.
Specialty classes taught on the worksite, such as Advanced Spanish for Legal Services Advocates, satisfying the employer's contractual obligation to provide such training, can and have been organized at no additional cost to the employer.
The Ed Fund was originally established as the District 65 Education Fund. Units of UAW locals participate in it and help support it through negotiated contributions from their employers, although the bulk of the Ed Fund's financing comes from the $250,000 contributed annually by the Consortium for Worker Education.
The director of the Ed Fund, Ms. Toby Emmer, can be reached:
by phone at 212-228-0041
by fax at 212-228-0157
by e-mail at edfund113@hotmail.com
Spanish Application (PDF)
Spanish Classes (PDF)
Tuition Reimbursement Application (PDF)
Tuition Reimbursement Information Sheet(PDF)
Download a PDF of information on the Ed Fund
Child Care Assistance
The Child Care Facilitated Enrollment Project is a pilot program that was developed to assist working parents to increase access to child care subsidies and quality care in New York City for children up to 13 years of age with qualifying incomes. The project was developed by the New York Union Child Care Coalition, a committee of the New York City Central Labor Council, is funded by the New York State Legislature and is administered by CWE in coordination with the New York State Office of Children and Family Services (OCFS) and the New York City Administration for Children's Services (ACS).
How does it work? You can use this program to pay your regular child care provider – you don't have to change providers, and you can move the subsidy to a different child care provider any time you want. You pay your provider a co-pay and and the program pays the rest of the cost.
Who's eligible? New York City residents in certain zip codes making under:
$46,503 for a family of 2
$58,658 for a family of 3
$70,813 for a family of 4
$82,968 for a family of 5
(*2019 income numbers)
To apply, begin by filling out this form or calling 212-558-2276 to start the pre-screening process. Please be sure to identify yourself as members of the Legal Services Staff Association, UAW 2320.
For more information, watch this short video or check the fact sheet for additional information and eligibility criterion.
Medical Insurance (LSNYC)
LSNYC Summary of Benefits 6-2016 (PDF)
Cigna
Cigna Enrollment Form – Fillable (PDF)
Cigna Claim Form – Fillable (PDF)
2005 Memo Re: Cigna Pre-Certification (PDF)
Reimbursement for Cigna Deductibles and Copays (PDF)
Pharmacy Home Delivery Customer FAQ
HIP
HIP Enrollment Form (PDF)
Empire
Empire Change in Enrollment Form (PDF)
Dental Insurance (LSNYC-Guardian)
Patient Claim Form (PDF)
Dentist's Claim Transmittal Form (PDF)
Enrollment/Change Form (PDF)
Summary of Benefits (PDF)
Financial Assistance with Infertility Treatment, Adoption, and Surrogacy (LSNYC)
LSNYC provides financial assistance for for infertility treatments up to an annual maximum of $25,000 and a lifetime maximum of $50,000 per person, pursuant to CBA 5.8. LSNYC provides financial assistance for adoption or surrogacy up to an annual maximum of $12,500 and a lifetime maximum of $25,000 per bargaining unit member, pursuant to CBA 5.9. The annual maximum for all bargaining unit members is $75,000 per year. LSNYC-provided financial assistance may be used to cover public or private agency fees, court costs and legal fees; it may also include but is not limited to foreign adoption fees, medical costs, temporary foster case charges, transportation costs, pregnancy costs for a birth mother, egg donor, or surrogate, egg storage fees, insurance fees, and counseling fees associated with placement and transition.
Click here for the Reimbursement Form
Vision Insurance (LSNYC)
Employee Assistance Program (LSNYC EAP)
A program open to all LSNYC employees regardless of health insurance provider. Click for EAP Flyer and Brochure
Flexible Spending (LSNYC)
BRI Benefit Claim Form (PDF)
BRI Mileage Claim Form (PDF)
To submit a claim via BRI's online system
Disability & Life Insurance 
Long-Term Disability
Cert. & Summary, CNA-MFJ (PDF)
Cert. & Summary, First Reliance-LSNYC (PDF)
First Reliance LTD Claim Form (PDF)
Short-Term Disability, Zurich-LSNYC
Short term disability insurance coverage is set by NYS statute. Though an employer could provide better benefits, ours do not, so there is no summary or statement of benefits specific to LSNYC or MFJ. Here is a link to an explanation of the benefits we have as provided by law:  www.wcb.ny.gov/content/main/offthejob/IntroToLaw_DB.jsp
Certificate (PDF)
Claim Form (PDF)
No Other Forms (PDF)
Life, Accidental Death & Dismemberment, First Reliance-LSNYC
Summary (PDF)
Enrollment Form (PDF)
Death Claim (PDF)
Basic Life, Guardian-MFJ
Program & Benefit Illustration (PDF)
Retirement (LSNYC)
Cigna and Medicare (PDF)
LSNYC's 403(b) retirement plan is administered by Prudential. Click here to log in. Or call Prudential toll-free at 877-778-2100 (877-Pru-2100).
Limited Power of Attorney (LPOA) form
Consumer Benefits
There are many consumer benefits available to union members. You can find an up-to-date list at the Union Plus website. Here are some specific benefits:
Cell Phone discounts through Verizon, AT&T, and Sprint
College scholarships of between $500-$4,000. Applications are available each year in mid-June, due by January 31, and are awarded the following Spring.
Car rentals: 25% off car rental through Avis, Budget, Hertz, Dollar, Thrifty and Payless
Discount movie tickets: Get discounts at AMC Theatres, Regal Cinemas, and Cinemark Theatres or stay in and get discounted rates with Redbox
Renters Insurance: Get coverage for your apartment and belongings
Pet Insurance: Get peace of mind when taking your pets to the vet with up to 10% off pet health insurance through Pets Best
Home and Car Insurance: Get up to 15% off your home or auto insurance through MetLife
Mortgages: Union members and the parents and children of members can participate in the Union Plus Mortgage Program
Legal Help: Access the Union Plus Legal Program to get legal advice and services in matters relating to family law, traffic, wills and estate planning, real estate, and criminal law
Personal Loans: If you have never declared bankruptcy and pay your bills on time you may be eligible for the Union Plus Personal Loan
Gift baskets and flowers: Get 25% off gift baskets and flowers from Teleflora and GiftTree