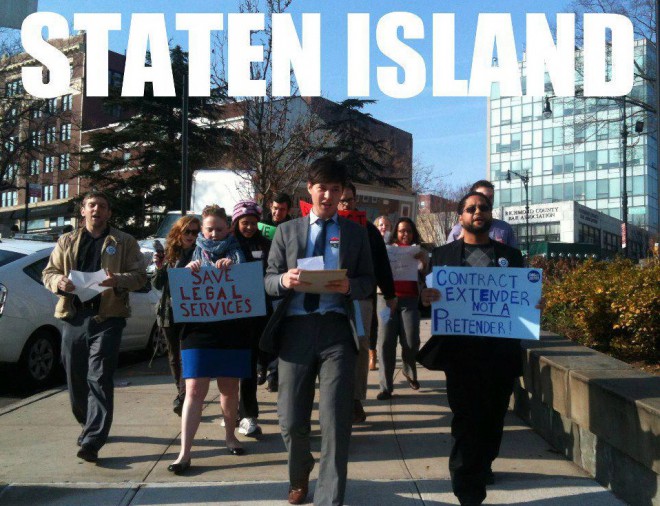 The Legal Services Staff Association is happy to announce the resolution of two grievances centered around abuse of the temporary employment status in our Staten Island office.
Last summer, thirteen of the twenty-one bargaining unit employees in Staten Island (62%!) were classified as temporary workers.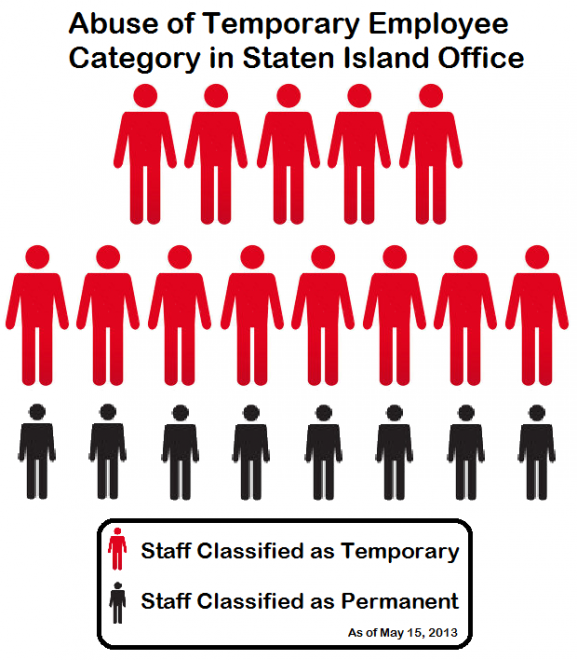 This meant they had no job protection and an uncertain future. Under the union contract, temporary status comes with several disadvantages including not having the right to contest a layoff and not having recall rights after being laid off.
There was no good reason for so many people to be called "temporary."
Such a high ratio of temporary workers also violates our union contract, which says that temporary status shall not be used to undermine the bargaining unit.
Unfortunately, this is exactly what happened.
In the midst of our strike in June 2013, one particularly active union member received an e-mail from the Project Director stating that her employment status would not convert to permanent on her one-year anniversary of employment, but instead would be extended as a temp. The union filed a grievance contesting this extension of temporary status and began formulating a plan to challenge the overuse of temporary status in Staten Island.
When we returned to work after the strike ended, the Project Director notified two additional union members that their temporary employment would not be renewed on their one-year anniversary – and that they would be laid off. These two union members were also active in organizing during the contract negotiations, casting a long shadow of retaliation over the Project Director's decisions. In response, the union initiated a second grievance more broadly challenging the conditions under which a bargaining unit employee may be classified as 'temporary.' The union also filed a grievance specifically for one of those union members, in response to which the Project Director agreed to make that staff member permanent.
These settlements should reign in and prevent a spread of temporary worker abuse."
Vance Gathing, staff attorney and union member
The recent settlement resolves both grievances. All bargaining unit members in Staten Island now have permanent employment status!
Moreover, the Staten Island program's use of the temporary worker category was not upheld. The settlement clarifies that temporary workers are to be hired only in specific and limited instances such as when covering another staff member's leave or to work on a pilot program.
Finally, it establishes unequivocally that extension of the temporary employment period beyond one year may only be used to cover an extended leave situation.
All staff in our Staten Island shop are now permanent employees with all the job protections under that contract that the union has fought for. We are proud of our members in Staten Island who were brave enough to fight this injustice despite the possibility that they would face backlash.