June 18, 2020
It is imperative that we correct the inequalities in our step system. Our step system is systematically inequitable: it provides lower percentage increases at virtually each step to staff on the lower paid scales, and has a disparate racial impact.
Under our current step system, a social worker moving from step 1 to step 2 gets a 4.2% raise, while a paralegal gets a 2.7% increase – on a lower base pay. A lawyer moving from step 4 to step 5 gets a 4.1% raise, while secretaries, receptionists, maintenance workers, hotline and intake paralegals all get a 1.8% increase – again on a lower base pay.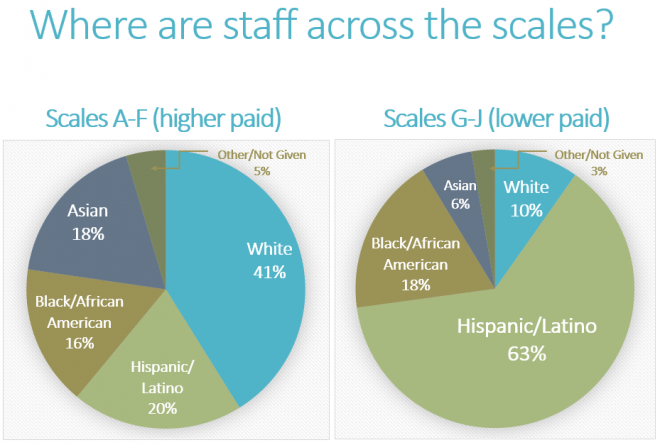 These differences are inequitable racially as well: white staff are over-represented on the higher payscales that receive larger percentage increases between steps, while Latinx staff are disproportionally on the lower payscales, receiving wrongfully smaller percentage increases between steps.
This injustice compounds over time. A lawyer on step 25 makes 73% more than an attorney on step 1, while a paralegal on step 25 makes only 40% more than a paralegal on step 1.
This is not right, it is inequitable, and it is long past time that we correct it.
We must bring our salary scale in line with LSNYC's commitment to racial, social, and economic justice, and to our principles of diversity, equity, and inclusion (DEI). And although LSNYC may not be able to fully implement these changes fully in this year of pandemic and budget uncertainty, we certainly can take significant and meaningful steps right now.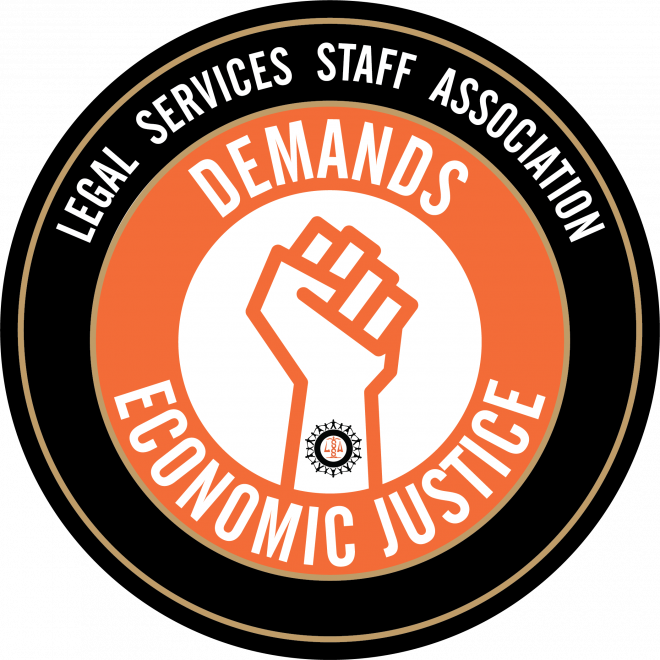 The union proposes that we adjust the step increases from steps 2 to 5 to fully implement equitable percentage increases to the highest percentage increase at each of those steps, with increases at steps 6 and above being taken from the new, higher salary. Specifically, step 2 salaries would be adjusted so that on each salary scale, step 2 was 4.2% above step 1. Step 3 would then be adjusted so that on each salary scale, step 3 was 3.9% above the new step 2 figure, and accordingly for steps 4 and 5. Steps 6 and above would retain the same percentage increase those steps had from the prior step on our current salary scale, but would be calculated from a new, higher base pay.
In addition, the union proposes increases of $2000 to base pay for staff on salary scales A-F, and increases of $3000 to base pay for staff on salary scale G-J. It is imperative that salary increases go to base pay, rather than to one-time signing bonuses that do not increase base pay.
Under the union's proposal, staff on step 1 would receive $2000 or $3000 increases to their base pay, while staff on steps 2 and above would receive those base pay increases plus equity adjustments.
Finally, we demand that the bump for those legal workers providing interpretation and translation services be increased from $1500 to $3000, matching the $3000 specialist bump awarded largely to attorneys, and, contingent on reaching an acceptable agreement on the above elements, we accept management's proposal to increase the educational loan reimbursement fund from $200,000 to $260,000 per year.
We have the money to make the changes the union is proposing. LSNYC received surprising and welcome news from Cigna last month – our health insurance contract was renewed at a lower rate, saving us $1.7 million dollars from what we had budgeted. In addition, due to Covid, LSNYC has pushed back planned hires. We believe it is reasonable to expect several million dollars in savings due to delayed hiring alone.