April 23, 2019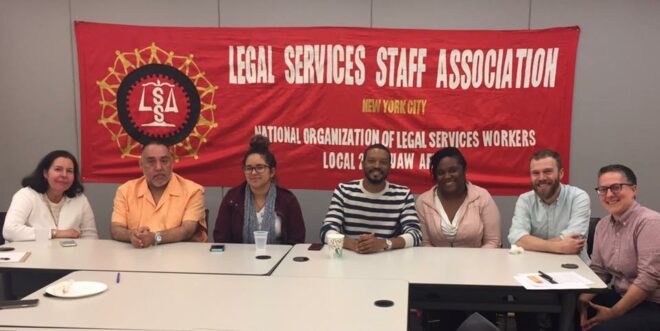 Thank you to our veteran union members who tonight spoke on a panel about what it's like to be a member of the team negotiating a union contract.
Our bargaining pros addressed questions like: what's it like to sit across the table from management? What skills do you learn by being on the bargaining team? Is there any particular experience or skills that you need in order to be on the bargaining team? How do you balance your workload with your bargaining team responsibilities? How does the bargaining team develop the bargaining demands?
The panel was open to members of all NOLSW units in New York City, and was intended to give those members who were curious about serving on a bargaining team an opportunity to learn more and hear directly from members who have served on previous teams.
We thank our members who attended tonight's panel as well as our bargaining team veterans who served as panelists: Manhattan attorney Lynn Ventura, Bronx paralegal Richard Sanchez, MFJ paralegal Reisy Veloz, Brooklyn attorney George Gardner, Bronx paralegal Shardae Rookwood, MFJ attorney Brian Sullivan, and union president Sonja Shield.