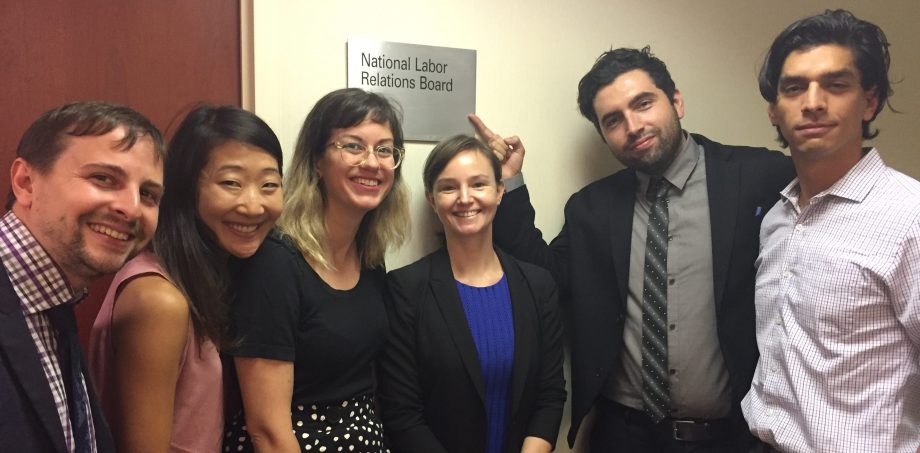 June 27, 2018
The staff of Brooklyn Legal Services Corporation A ("Brooklyn A) filed a petition on Wednesday June 27th with the National Labor Relations Board (NRLB) seeking a union election after Brooklyn A's board and management failed to voluntarily recognize their employees' decision to unionize.
Brooklyn A is a Brooklyn-based not-for-profit organization that provides free legal services in the areas of housing, foreclosure defense, bankruptcy, and community economic development. Since 1968, Brooklyn A's attorneys and staff have served the residents and communities of North and East Brooklyn.
On June 15, 2018, a delegation of staff formally notified management that an overwhelming majority of its employees had voted to unionize, elected to be represented by the Legal Services Staff Association (LSSA), and requested voluntary recognition from management. At the request of Brooklyn A's management, the staff agreed to give them additional time to consider their decision in the hopes of maintaining an amicable and positive bargaining process.
Despite providing Brooklyn A management with additional time to consider whether to recognize the decision of the super-majority of staff who voted in favor of forming a union, Brooklyn A management remained silent following an extended meeting with their Board of Directors, forcing the employees to file for an election with the NLRB.
"We are surprised and saddened by management's failure to affirmatively recognize our union," said Chris Sina, Staff Attorney with the Individual Representation Unit, "especially considering that Executive Director Marty Needelman initially told us he was open to recognizing the union, and even posed for a celebratory photo with members. Every day, Brooklyn A is out in the community extolling the benefits of fighting collectively against the tide of gentrification and displacement. Management's resistance to voluntarily recognizing the fact their staff unionized in order to seek collective improvements to their work experience stands in stark contrast to everything for which Brooklyn A stands."
This pushback from management demonstrates just one of the many reasons Brooklyn A staff feel compelled to unionize. In recent years, staff have expressed growing concerns about a number of issues with the potential to adversely affect the quality of client services, including unreasonable workloads, insufficient training resources and administrative support, and a lack of transparency with respect to managerial decision-making.
"It is disappointing that on the very day the U.S. Supreme Court issued its decision in Janus v. AFSCME undermining unions that Brooklyn A management failed to support its employees' union," said Sonja Shield, President of Legal Services Staff Association, NOLSW/UAW 2320 (LSSA). "We would have hoped that Brooklyn A management recognized how unions strengthen workplaces and communities and welcomed staff having a voice in how to provide the highest level of client services."
LSSA is part of UAW Local 2320, a national union representing roughly 4,000 legal professionals including attorneys and support staff at legal services providers such as Legal Services NYC, Mobilization for Justice, Urban Justice Center, Housing Court Answers, Goddard Riverside Law Project, Housing Conservation Coordinators, and others. While Brooklyn A is not the only legal services provider whose staff have recently decided to unionize, Brooklyn A's management's failure to voluntarily recognize its staff's decision is an unfortunate outlier. Last month, staff at CAMBA Legal Services presented their employer with a similar decision to unionize. Within a week, CAMBA agreed to recognize the union after a neutral third party verified the number of cards signed.
"Much of Brooklyn A's work is to support direct democracy, cooperative governance, and grassroots organizing," said Jennifer Kubicki, Senior Staff Attorney with the Community and Economic Development Unit. "Brooklyn A's staff have demonstrated through our votes that we feel strongly that a unionized staff will not only allow employees to work alongside management to build a stronger, more equitable, and more effective organization, but also to live more fully by the principles that Brooklyn A has long espoused."
On November 1, 2018, Brooklyn A will be celebrating its 50th anniversary. Brooklyn A has for most of its existence been a unionized workplace, and the organization previously had a decades-long working relationship with LSSA. The outgoing Executive Director, Martin Needelman, often speaks about his experience with the union when he and Paul Acinapura (former Brooklyn A General Counsel) worked on the front lines to organize Brooklyn A and legal services staff around the city. In fact, when presented with the Brooklyn A staff's decision to unionize, Mr. Needelman shared the story of how Mr. Acinapura led the city-wide union on a 13-week strike in 1979. Brooklyn A's management is, therefore, no stranger to the benefits and protections unions can secure for workers. Staff are hopeful that Needelman and incoming Executive Director, Jessica Rose, will recognize the key role that unions play in creating a fair and just workplace, but thus far there has been no response.
LSSA and the Brooklyn A staff anticipate that the NLRB will administer an election shortly and that the super-majority's vote to unionize will be upheld.