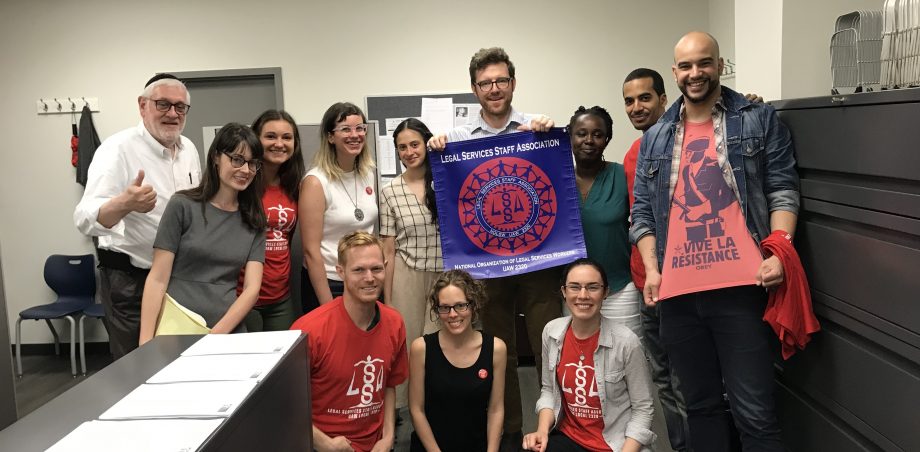 June 15, 2018
The staff of Brooklyn Legal Services Corporation A ("Brooklyn A") met with members of Brooklyn A's management the morning of June 15, 2018 to formally demand union recognition.
Brooklyn A is a Brooklyn-based not-for-profit organization providing free legal services in the areas of housing, foreclosure defense, bankruptcy, and community economic development. For almost fifty years, Brooklyn A's attorneys and staff have served the residents and communities of North and East Brooklyn.
A delegation of staff met with Brooklyn A's Executive Director, Martin S. Needelman, and Brooklyn A's Incoming Executive Director, Jessica Rose, and informed them that a clear majority of the organization's employees had signed cards indicating their intent to unionize. Staff are urging Brooklyn A management to voluntarily recognize their demand to bargain collectively, and to be represented by the Legal Services Staff Association (LSSA). Among the staff's demands are reasonable workloads, increased training resources and administrative support, and transparency with respect to managerial decision-making.
"Brooklyn A has an incredible legacy of fighting for the low-income residents of North and East Brooklyn. Unionization will allow our staff to obtain the support, training and flexibility necessary to provide legal services of the highest quality and to carry the organization's legacy forward for years to come," said Adam Meyers, Staff Attorney in Brooklyn A's Group Representation Unit.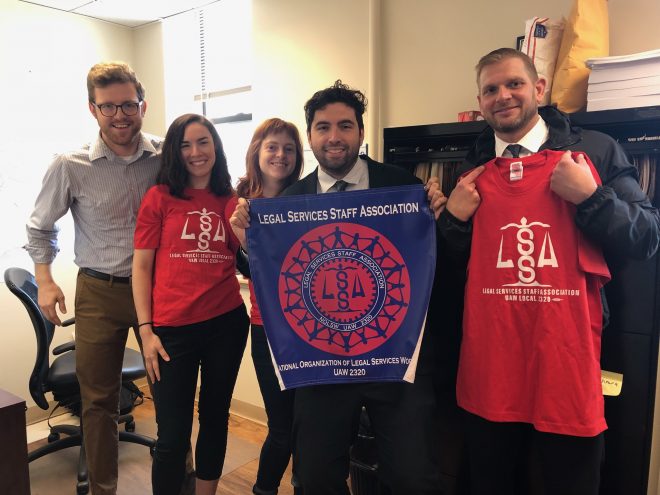 "As front line staff, we need to have a seat at the table as Brooklyn A management makes decisions that will affect not just our own rights as workers, but the quality of services our clients receive," said Mary Lou Moul, Paralegal in Brooklyn A's Individual Representation Unit. "Being part of a union will give us more opportunities to advocate for our clients not just in legal proceedings, but in Brooklyn A's own planning."
"It makes sense to uphold our commitment to social justice not just in the communities we serve but in our own workplace as well," said Kevin Worthington, Legal Advocate and Tenant Organizer in Brooklyn A's Group Representation Unit. "We call on BKA to recognize our union and begin the process of bargaining a contract we can all be proud of."
"Brooklyn A joins the growing number of legal services providers whose staff are unionizing in an effort to achieve better wages and work conditions," said Sonja Shield, President of Legal Services Staff Association, NOLSW/UAW 2320 (LSSA). "Together with their fellow legal workers at organizations including Legal Services NYC, Mobilization for Justice, the Legal Aid Society, CAMBA, and others across New York City and the country, Brooklyn A staff are fighting for their clients, their communities, and for their right to have a meaningful voice in their workplace."
Before Brooklyn A's disassociation from Legal Services NYC (LSNYC) in 2013, Brooklyn A's staff were represented by the LSSA as part of LSNYC. LSSA currently represents the secretaries, paralegals, receptionists, process servers, social workers, attorneys and other non-management employees of LSNYC and Mobilization for Justice (MFJ, formerly MFY Legal Services). Founded in 1973, LSSA is a unit of the National Organization of Legal Services Workers (NOLSW), Local 2320 of the United Automobile, Aerospace and Agricultural Implement Workers (UAW).