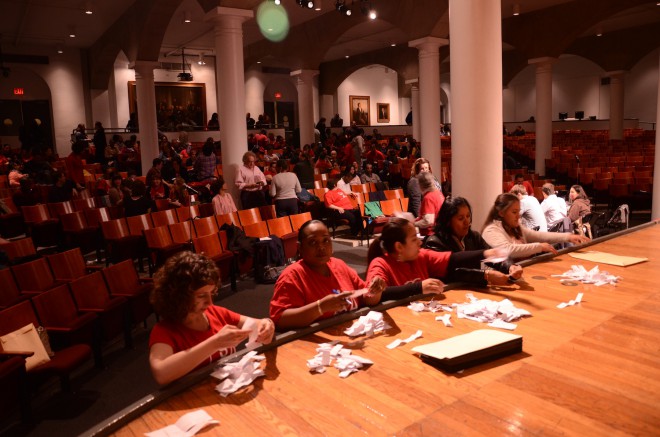 Members of the Legal Services Staff Association (LSSA), the union representing over 200 attorneys, paralegals, secretaries, process servers, and other professionals employed with Legal Services NYC (LSNYC), today rejected management's contract proposal which demanded unprecedented cuts to health care and retirement benefits.
Employees at LSNYC, the nation's largest provider of low-income civil legal services, are on strike for the first time in nearly 20 years.
"The employees of LSNYC have committed themselves to anti-poverty advocacy on behalf of low-income and elderly New York City residents," said Melissa Roman, a paralegal with LSNYC's Queens-Long Island City office. "It saddens each of us that LSNYC management has forced us into this position."
Employees have been working without a contract since July 1, 2012.
An overwhelming majority of the membership rejected LSNYC's proposal, which demanded financially unnecessary concessions including significant cuts to health care coverage for particularly vulnerable members and families, higher employee payments to health care premiums, a 29% reduction to 403(b) retirement contributions, and zero cost of living increases to salaries.
In the waning hours of negotiations, the union made an unprecedented offer to pay 2% of member salaries toward health care. The union's solution, aimed at preventing proposed cuts from falling primarily on the organization's sickest and lower-income members, was flatly rejected by management.
At the heart of the strike is a dispute concerning the direction of LSNYC and the quality of services to the organization's thousands of clients. LSNYC attorneys and members worry that management's proposed cuts would undermine the organization's model of retaining experienced advocates, in turn diminishing the direct legal services provided to clients. "Maintaining high quality legal services for our clients is of chief concern for us," said Sonja Shield, an attorney with LSNYC's Brooklyn office. "We want to gain the experience to ensure that we are the most effective advocates for social justice. That is simply not possible if we are unable to pursue sustainable careers in direct legal services."
LSSA's 220 members employed at LSNYC represent thousands of low-income and elderly New York City residents each year.
LSNYC's proposed cuts to employee benefits, and the feared effects on client services, come in the face of disputed fiscal circumstances. Despite LSNYC's pessimistic claims of funding cuts from the nationwide Legal Services Corporation, the organization expects a working capital surplus of $10.5 million at the end of 2013 and does not expect significant layoffs until 2015. Management's lead negotiator has also indicated that LSNYC can conservatively expect additional working capital increases of $2 to $3 million per year.
Both sides have proposed a two-year contract that would expire June 30, 2014, leaving time to negotiate depending upon actual funding outcomes.
Meanwhile, despite exaggerated claims of budget shortfalls, LSNYC has faced criticism from the union for its low ratio of advocates to high-salary managers. While LSNYC currently employees only three union members for each higher-salary manager, the Legal Aid Society has an advocacy-oriented ratio of five employees to each manager. Because of LSNYC's allocation, skewed toward management, just slightly over half of LSNYC's budget pays for front-line case-handling staff. LSNYC has refused to address the management to staff ratios, or discuss any commitment to proportional layoffs should such steps become necessary in the future. The union estimates this proposal would save approximately $1.5 million per year, while preserving vital services to low-income families and the elderly.
LSNYC clients expressed worries about the proposed givebacks and voiced support for union members on strike. "I am fully behind the attorneys, paralegals, and staff on strike, and I worry that these cuts would deprive people in my situation of quality advocacy" said Alicia Moore, a former client in LSNYC's Brooklyn office. "When I was facing eviction, and was unable to afford a lawyer, the employees of Legal Services were there. Their expertise helped me every step of the way. These employees are experienced and dedicated to serving our community, and they deserve a fair contract."
Employees have also questioned the tactics of LSNYC's bargaining team, led by Executive Director Raun Rasmussen, Joseph Genova (partner at Milbank, Tweed, Hadley and McCloy), and Michael Young (JAMS).
After members set a May 1 contract proposal deadline – with a goal of educating themselves in order to make an informed decision on May 15 – management failed to supply full written details of the proposal until the day before the vote.
Just hours later, near the close of business on May 14, LSNYC proposed adding various conditions in exchange for a possible lump-sum restoration of retirement benefits. Union members also rejected this supplemental proposal today.
Meanwhile, LSNYC began threatening to drop all union members from their health care coverage in the event of a strike.
Members emphasize the importance of a contract that allows them to continue their careers while raising families and planning for their futures. "The proposed cuts will likely cost my family an additional $450 per month, totaling $5,400 a year in health care costs, and my son's speech therapist would become prohibitively expensive due to increased deductibles and out-of-pocket expenses," said Terry Lawson, staff attorney with Legal Services NYC-Bronx. "LSNYC's proposed cuts threaten our financial security in jobs that we love, in which we have already made substantial sacrifices. We're asking our management to resolve this strike by giving us a fair contract that doesn't make cuts at the expense of our most vulnerable members."