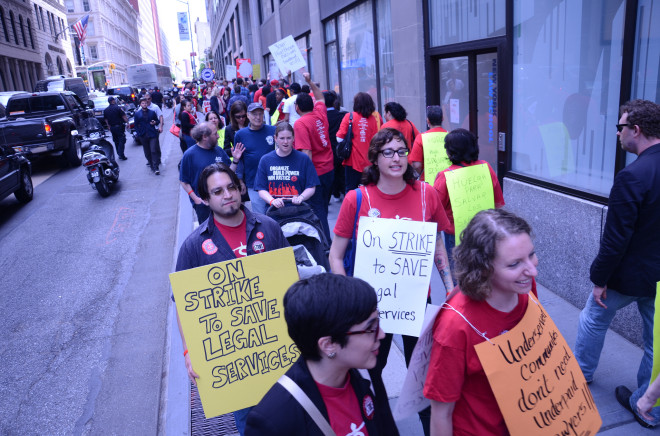 Members and supporters of the Legal Services Staff Association, NOLSW/UAW Local 2320 (LSSA), the union representing attorneys, paralegals, secretaries, process servers, and other professionals employed with Legal Services NYC (LSNYC), yesterday rallied in front of LSNYC's Tribeca headquarters.
LSSA yesterday rejected management's contract proposal which demanded unprecedented cuts to health care and retirement benefits.
An overwhelming majority of the membership rejected LSNYC's proposal, which demanded financially unnecessary concessions including significant cuts to health care coverage for particularly vulnerable members and families, higher employee payments to health care premiums, a 29% reduction to 403(b) retirement contributions, and zero cost of living increases to salaries.
Employees at LSNYC, the nation's largest provider of low-income civil legal services, are on strike for the first time in nearly 20 years. Employees have been working without a contract since July 1, 2012.
More than 300 people, including Manhattan Borough President Scott Stringer and New York State AFL-CIO President Mario Cilento, participated in the lunchtime demonstration. The day's events also included morning picketing in all five boroughs; Assemblymember Micah Kellner, New York City Council candidates Igor Oberman and Jenifer Rajkumar, and former Assemblymember Rory Lancman joined members and supporters in Harlem, Brooklyn, and Queens.
More than 200 of LSSA's members, representing virtually the entire membership, participated in the first day of the strike.