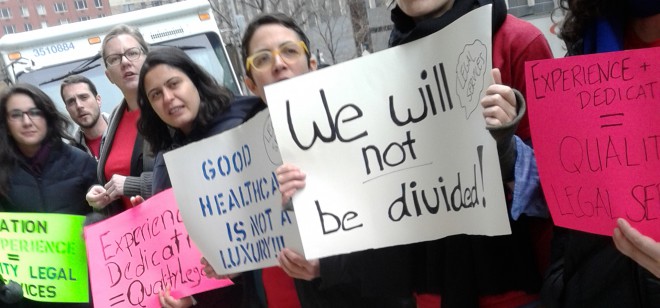 January 11, 2015
The union staff of MFY are calling for contract that ensures the quality legal services our clients deserve and provides for a diverse, family-friendly workplace.
MFY management says they want the same, but let's take a look at what they're really offering.
WHAT THEY SAY:
"MFY Ends Year of Record Growth and Is a Leader in the Sector in Salaries and Benefits."
THE REALITY:
MFY has enjoyed unprecedented fiscal growth as a result of the outstanding work of MFY's committed and hardworking attorneys, paralegals and support staff. HOWEVER, MFY's management are working to roll back salaries and benefits in an attempt to make MFY a less family-friendly and diverse workplace with less experienced staff.
WHAT THEY SAY:
"MFY's staff . . . earns among the highest salaries in the legal services community in New York City and enjoys a comprehensive benefits package."
THE REALITY:
MFY's staff, recognizing the difficult financial landscape during the past six years, accepted salary increases below the rate of inflation, resulting in effective salary decreases during these years. Now MFY is growing and prospering as a result of the hard work and dedication of our staff.  But management refuses to reward us for our sacrifices and insists on limiting raises to levels that do not keep up with the cost of living in New York City.
Management has proposed the elimination of same-sex domestic partners from MFY's health coverage.
MFY is the ONLY legal services provider of its size that provides ZERO paid parental leave, forcing employees to cobble together sick and vacation time, or forgo the decision to have children until they find a new employer.
Management has proposed limiting the accrual of sick days so that MFY will not have to take care of staff members who become terminally ill.
MFY's has proposed adding a $3,000 out-of-pocket deductible for all out of network health coverage.
WHAT THEY SAY:
"MFY is particularly attractive to young lawyers who benefit from a stimulating and collaborative work environment where they are trained by highly-experienced supervising attorneys…"
THE REALITY:
Mentoring and training of new staff is primarily undertaken by senior staff members. MFY has overseen a noted reduction in senior staff, who have left the organization in search of employers who value their experience. And MFY's words show that it wants to be "particularly attractive" to "young lawyers." By proposing healthcare cuts, refusing to provide parental leave, and offering salaries that do not keep up with inflation, management is telling its casehandlers and staff members that it doesn't value their experience and training, much to the detriment of the people that MFY serves.
---
Please tell MFY that you stand with
the MFY Staff demand for a fair contract.
Contact Executive Director Jeanette Zelhof at jzelhof@mfy.org or (212) 417-3727.
Contact Board President Robert I. Harwood at rharwood@hfesq.com.