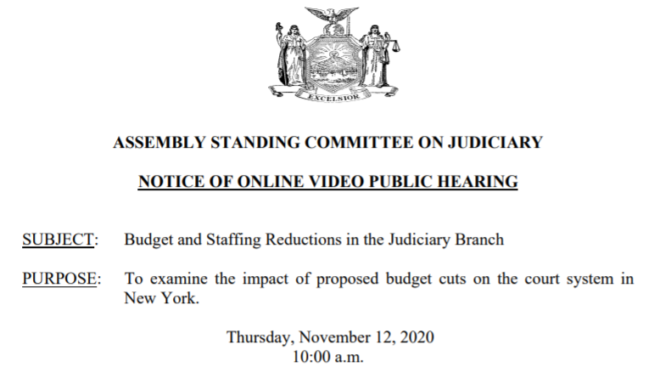 The following testimony was submitted to the New York State Assembly Standing Committee on Judiciary for their November 12, 2020 hearing examining the impact of proposed budget cuts on the court system in New York.
November 12, 2020
ASSEMBLY STANDING COMMITTEE ON JUDICIARY
Public Hearing: Budget and Staffing Reductions in the Judiciary Branch
My name is Sonja Shield, President of the Legal Services Staff Association, NOLSW/UAW 2320. We in the Legal Services Staff Association are a union representing the staff employees at Legal Services NYC (LSNYC) and Mobilization for Justice (MFJ) in New York City, providing civil legal services to low-income New Yorkers. We represent all non-management employees at LSNYC & MFJ – attorneys, paralegals, secretaries, social workers, fiscal and IT staff, process servers, maintenance workers, and more.
Our advocates represent low-income New Yorkers facing eviction in housing court and termination of tenancy in NYCHA and HPD administrative proceedings; those facing wrongful foreclosures; families torn apart or threatened by unnecessary foster care placements; immigrants seeking a permanent home in this country; students seeking special education services or defense against wrongful and racist disciplinary proceedings; workers cheated of their wages; and more. This work vindicating New Yorkers' rights takes us from housing court to State Supreme Court to family court to virtually every administrative forum in New York City.
Thank you for the opportunity to submit testimony about the impact of the 10% cut in Judiciary funded civil legal services.
For the staff we represent at Legal Services NYC, the 10% loss of funding from the State translates into about $1M in funding. This is funding that would have been used to serve approximately 2,000 individuals and families. Statewide, the 10% cut represents a roughly $10m cut, which will result in the loss of services for thousands of individuals and families.
Despite the pandemic and despite funding struggles, our union members are still working resolutely to serve our clients. We are working from makeshift home offices, navigating the challenges of overtaxed home internet and children's remote schooling, while serving more clients and working harder than ever. New Yorkers have been hit hard by Covid, and our hotline staff are hearing from more than 700 New Yorkers each week, all in need of essential services like unemployment insurance, cash assistance, and SNAP (food stamps). Demand for our public benefits services have nearly doubled and we are now opening nearly 1,000 new public benefits cases each month. Our advocates have put together best practices guides for conducting virtual hearings to address due process and confidentiality concerns and ensure that the rights and interests of our clients are not prejudiced. We are committed to doing what needs to be done to serve our clients.
As we look ahead, we see on the horizon a looming avalanche of evictions and foreclosures; pain that will likely fall disproportionately on communities of color. We are hiring new staff to meet this increased need, though budgets do not fully cover these new positions and additional sources of funding will need to be identified in order to avoid the risk of layoffs down the road. We know you are as concerned as we are about the desperate need for services to avoid homelessness, and the necessity of funding to provide those services.
Now eight months into the pandemic, it is clear that we still have many months ahead of us before we might return to something resembling normal. As Legal Services NYC's Executive Director Raun Rasmussen stated in his written testimony to this Committee:
"At a time when the infection rates are increasing, it is clear that we have months of illness still ahead of us, and that the courts will need to continue to do everything in their power to not become venues for spreading of the virus. In the vast majority of cases, when both sides are represented by counsel, virtual proceedings have proven to be effective in resolving the cases."
We agree with Mr. Rasmussen and urge this Committee to exercise its oversight of the Office of Court Administration to encourage the maximum use of virtual proceedings and to ensure the safety of the physical court buildings.
To protect the health of litigants, court staff, and our communities, it is imperative that the Office of Court Administration provide full transparency about the physical condition of its courthouses and work collaboratively with unions, employers, and other stakeholders to ensure safety for all who enter. These are public buildings and the Office of Court Administration is accountable to us, the public, and to you, the Legislature.
We ask that you direct the Office of Court Administration to provide documents and testimony to you to establish the condition of the courthouses and the protocols they plan to use to protect the safety of all who enter. We urge you to obtain documentation and answers to ensure, among other things:
that the HVAC system in each courthouse has properly installed filters sufficient to filter out Covid particles, and that those systems are monitored (including through the use of carbon dioxide monitors) and maintained regularly;
that OCA describe all completed or planned modifications to the buildings including installation of no-touch technology, toilet covers, temperature monitors, carbon dioxide monitors, ultraviolet light disinfection units, etc.;
that OCA provide you with logs documenting their cleaning practices and demonstrating that those practices meet EPA standards;
that OCA document how it plans to screen visitors to the courthouses (including those with SecurePasses) for Covid symptoms, how it will train court officers (who are not trained health professionals) to conduct these screenings; how it will identify asymptomatic carriers, how it will ensure that anyone denied entry does not suffer prejudice to their case, and whether it will be providing PPE to visitors to the court houses;
that OCA provide all court and judge rules for conducting in-person proceedings with regard to confidential communications between attorney and client, submission of documents and other discovery protocols, subpoena submission and responses, consideration of reasonable accommodation requests, etc.;
and that OCA describe its social distancing guidelines and protocols for employees and visitors, in particular in elevators and elevator banks, hallways, entrances, and other communal areas; and provide its protocols for limiting the number of people in a courthouse at one time.
Thank you for your leadership and your attention to ensuring the safety of the courts and to how to fund legal services to meet the dire and immediate legal needs of low-income New Yorkers.