May 20, 2016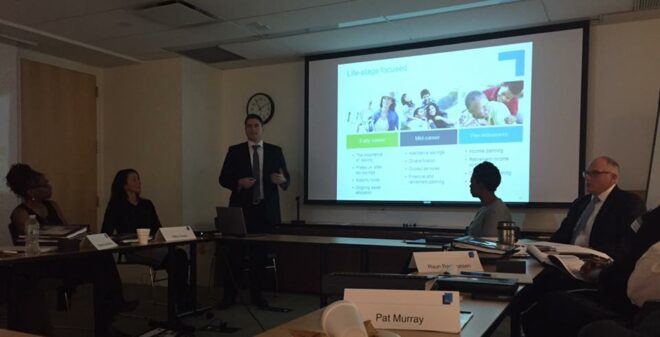 Our union has long pressed LSNYC to take the financial health of our retirement accounts seriously. In 2015, taking a significant step towards this goal, LSNYC agreed to the union's request to ask for bids on our retirement contract. In February 2016, our union, along with LSNYC management, interviewed four companies (Mass Mutual, Empower, Prudential, and our current provider Valic) who are bidding to administer LSNYC's retirement plan.
The four finalists all submitted proposals with competitive fee rates and an open-architecture plan that will allow us to craft the best portfolio from the open market. Illustrating the importance of this competitive bidding process, all, including Valic, offered a price that is significantly better than what we are currently being charged. Valic cut their proposed fee almost in half, compared to what they are currently charging us.
In April, the labor-management retirement committee met with LSNYC's retirement plan consultant/advisor to review and discuss the four companies interviewed as finalists to become LSNYC's retirement plan provider. Our joint committee reviewed a number of factors, including fees, the amount of on-site education they would provide, the rate on their stable value fund, the process of moving money in the stable value fund, the administrative support they will give to our HR department, the quality and ease of use of their website, and the transparency and trustworthiness of their communications with us. We also considered our negative past history with Valic. In addition to their failure to disclose a significant website breach and identity theft incident to us, and their failure to affirmatively advise the fiduciaries of changes in the retirement services marketplace that would have improved our retirement plan, Valic refused in their interview to straightforwardly tell us whether their staff people receive a commission for products they sell us during educational sessions.
Based on these considerations, the union members of the retirement committee were in favor of choosing Prudential as the new retirement provider. The LSNYC fiduciaries (Raun Rasmussen, Genia Wright, Kirsten Soberanis, and Betty Caines) then met to discuss the interviews and candidates, and chose financial services company Prudential as the new company that will administer our 403(b) retirement accounts. October 2016 is the target date for the switch from Valic to Prudential.
We are proud to have played a role in this significant improvement that will help protect our ability to plan for retirement and provide for ourselves and our families.