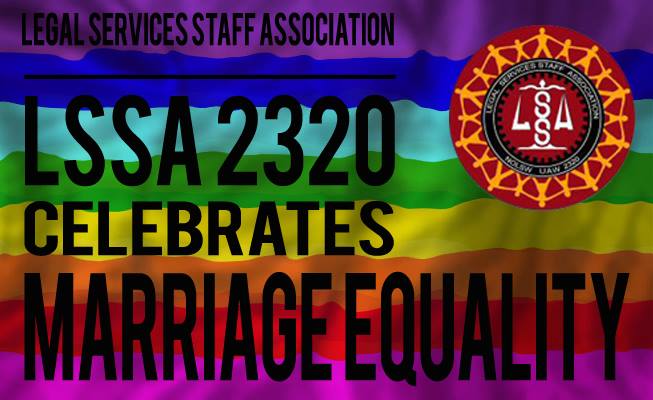 June 26, 2015
Legal Services NYC ("LSNYC"), the largest provider of free civil legal services to low-income people in the United States, and the Legal Services Staff Association (LSSA/UAW 2320), representing employees of LSNYC and of MFY Legal Services, celebrate the Supreme Court's historic decision establishing marriage equality as the law of the land.
Marriage, and the security and protection it provides, affects all areas of our practice. Every day, we see the desperate legal needs of people without means: the need for shelter, safety, food and income security. Our extensive experience addressing these needs has shown us the tangible and profound benefits that flow from the status of marriage—and the deep harm caused to low-income LGBT individuals and their families when they are denied the benefits, protections, and presumptions associated with that status.
Since New York State enacted marriage equality in 2011, we have witnessed the improvements in the lives of low-income LGBT clients and their children that come with access to the many benefits, protections, and presumptions afforded to married couples. Today's decision strengthens the marriages of our clients, and secures those same rights for low-income LGBT individuals around the country.