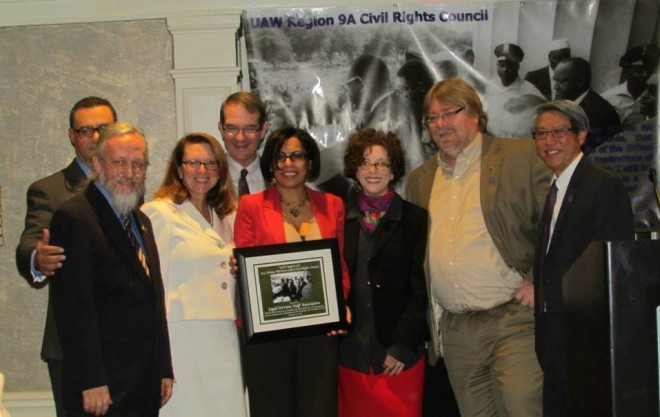 On January 24, the UAW Region 9A held its 21st annual Region 9A UAW Civil and Human Rights Awards Recognition Dinner.
The Legal Services Staff Association was honored to be recognized with the Benny Thornton Labor-Civil Rights Achievement Award, which is given in memory of Benny Thornton, the former chair of the UAW Region 9A Civil Rights Council. The award recognizes rank and file members who have shown their commitment to civil rights through dedication, determination, and passion. With this award, the UAW Region 9A recognizes our courage, perseverance, and dedication to social justice through our successful six week strike, in which we protected our pay, healthcare, and retirement benefits, and added mechanisms to protect employees in the event of future layoffs.
Union President Amy Hammersmith thanked attendees with the following remarks:
"This award has been earned by every single member of LSSA 2320 who took the courageous step of walking out of the office and onto the picket line. A strike is a collective leap of faith and trust. It requires trust in your colleagues that they will stand with you for as long as it takes to win a fair contract; trust in yourself that you can make a difference in your own workplace, your own life; and trust in the idea that there can be justice in the world if you are willing to make it happen.

The courage of our coworkers gives us hope and inspiration, and we thank you very much for honoring them."
LSSA joined a group of amazing social activists in receiving awards at the annual Civil Rights Dinner.
Wendy Fields-Jacobs, the executive assistant to UAW President Bob King and a member of UAW Local 376, was awarded with the Region 9A Social Justice Award. Wendy has participated in multiple collective bargaining negotiations and is a staff member at the International UAW.
The dinner also honored Derrick Johnson with the Region 9A Community Activism Award. Derrick Johnson is the president of the Mississippi State NAACP, serves on the national board of directors for the NAACP, and is a leader of many community organizations. Mr. Johnson and the NAACP are working closely with the UAW to unionize and protect workers at the Nissan plant in Canton, Mississippi. Mr. Johnson has also been involved with the Congressional Black Caucus Foundation, helped secure funding for a convention center and public schools in Jackson, MS, and worked significantly on rebuilding efforts after Hurricane Katrina. Since that time, Mr. Johnson founded One Voice, an organization that uses policy work, economic empowerment, and community engagement to further its mission of improving the lives of African-Americans and other marginalized communities.
The Legal Services Staff Association is honored to be in such illustrious company, and thanks Region 9A of the UAW for their recognition with this award and their support during the strike.