On Thursday, August 26th our union hosted a public health expert, Dr. Theresa Chapple, Ph.D, MPH, for a non-judgmental forum where Dr. Chapple addressed some common concerns and answered questions about the Covid-19 vaccines.
The forum was skillfully moderated by Covid bargaining team member Jaritza Molina, union member and paralegal in our Bronx office.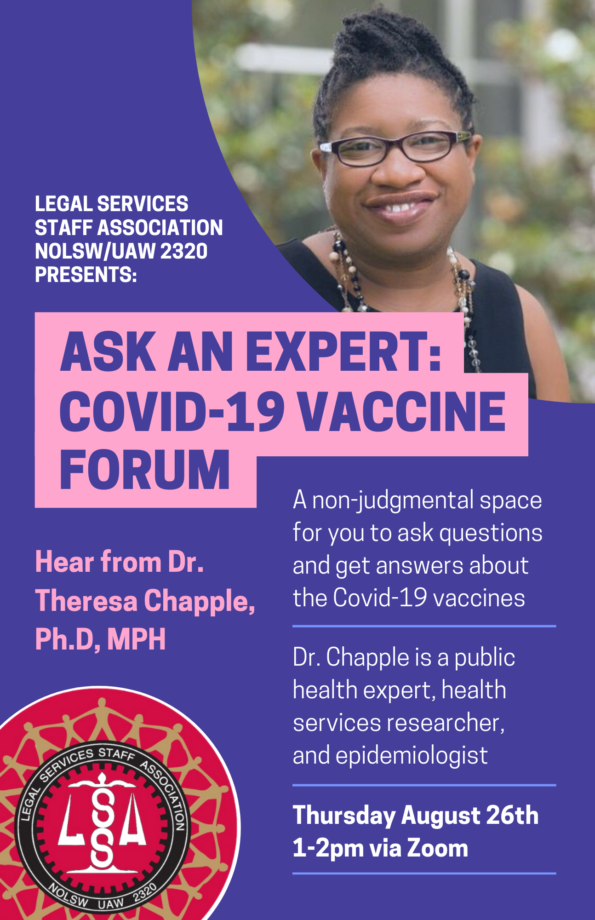 Dr. Chapple received her Ph.D in epidemiology and also holds a master's degree in public health. Over the course of her career, she has worked in public health, with a focus on epidemiology and maternal and child health, at all levels of government as well as nonprofit organizations. Her work is rooted in anti-oppression, with a focus on the intersection of racism and sexism.
Questions ranged from asking potential side effects, to the legacy of racism in this country, to why masking is still necessary, and more.
One question asked: "These vaccines were developed really quickly, less than a year after people first started getting sick. That makes me worried. It feels rushed. How do we know they did a good job, didn't cut corners, and that they're safe to take?"
Another queried: "Our government has treated Black people and other people of color as disposable, not valuing our lives. How can I trust our medical system when it tells me to take this vaccine, when I know what our government did to Black people in Tuskegee and in so many other ways?"
Others asked whether it is safe to get the vaccine if they were pregnant or considering getting pregnant, how the efficacy of the vaccine differed for someone on immunosuppressants, what we should know about boosters, whether those who have already had Covid should still get vaccinated, what the safety of the vaccine is for kids, and more.
We were thrilled to hear from Dr. Chapple and to be able to provide a space for our members to get answers to these important questions.