Thank you to the Progressive Caucus of the New York City Council and Councilmember Ben Kallos for supporting our union and our MFJ shop by sending a powerful letter to the Mobilization for Justice Board and executive leadership. MFJ's relationship with the Jones Day law firm ("Trump's favorite law firm") is hypocritical and indefensible. MFJ: quit Jones Day!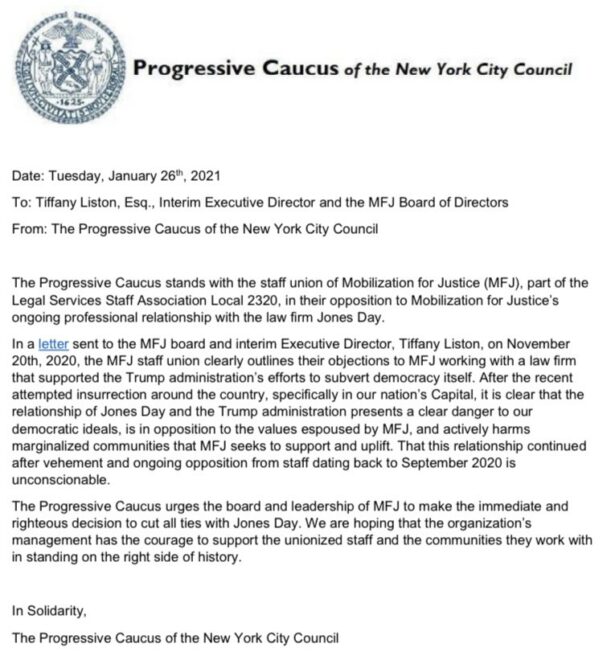 "The Progressive Caucus stands with the staff union of Mobilization for Justice (MFJ), part of the Legal Services Staff Association Local 2320, in their opposition to Mobilization for Justice's ongoing professional relationship with the law firm Jones Day.
In a letter sent to the MFJ board and interim Executive Director, Tiffany Liston, on November 20th, 2020, the MFJ staff union clearly outlines their objections to MFJ working with a law firm that supported the Trump administration's efforts to subvert democracy itself. After the recent attempted insurrection around the country, specifically in our nation's Capital, it is clear that the relationship of Jones Day and the Trump administration presents a clear danger to our democratic ideals, is in opposition to the values espoused by MFJ, and actively harms marginalized communities that MFJ seeks to support and uplift. That this relationship continued after vehement and ongoing opposition from staff dating back to September 2020 is unconscionable.
The Progressive Caucus urges the board and leadership of MFJ to make the immediate and righteous decision to cut all ties with Jones Day. We are hoping that the organization's management has the courage to support the unionized staff and the communities they work with in standing on the right side of history."