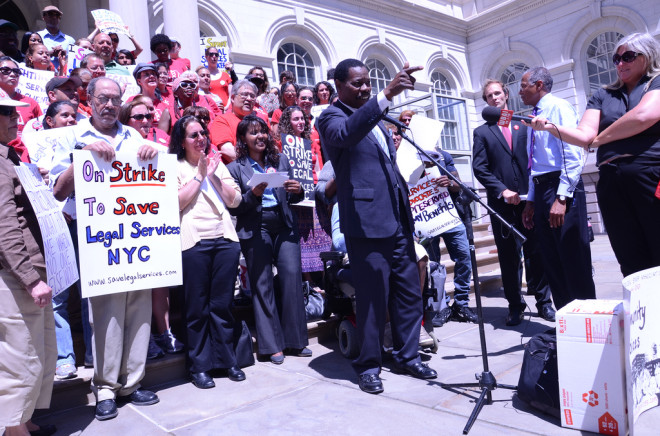 Clients, community leaders, and elected officials today spoke out forcefully on behalf of the striking employees of Legal Services NYC (LSNYC). Speakers called for a fair contract for the advocates who provide critical legal representation to save their homes, ensure quality education for their children, and stabilize their families. Councilmembers Rosie Mendez (a former member of the Legal Services Staff Association), Gale Brewer, Margaret Chin, Elizabeth Crowley, Daniel Dromm, Sara Gonzalez, Robert Jackson, Brad Lander, Donovan Richards, James Van Bramer, and Ruben Wills joined in support of the LSNYC workers. The event was held on the steps of New York City Hall and was followed by a procession to the office of LSNYC Board Chair Joseph Genova.
The elected officials called on management to offer a fair contract, and clients provided emotional testimonials. "Both my son and I probably would not be in this country if it were not for the amazing work of Lynn Ventura," said Manhattan Legal Services client Nancy Alfonzo. "Lynn initially represented my son with his immigration case, helping him to gain permanent status in the U.S. and eventually achieve his citizenship, and she helped me gain residency. These are stories that define our lives and these committed career advocates have been at the center of them. Without Lynn's help, my family would have been torn apart, on different continents. Instead, she has helped make our lives more secure."
"I have lived in a rent-stabilized apartment in Brooklyn for many years," said Philip Crawford, a client of LSNYC's Brooklyn program. "During this time, my landlord has harassed me and sued me to try to get me out of my apartment so he could raise the rent. I know that he harassed me because he did not think I could afford an attorney to defend myself. Thankfully, I was blessed to have Rachel Hannaford's help. She represented me, allowed me to protect my rights, and helped me stand up to a landlord who continued to abuse the law. The management of Legal Services NYC is making a huge mistake by refusing to give my lawyer and her colleagues a fair contract. They are depriving those in need of a very scarce resource: a lawyer who will stand up for them when no one else will."
"Without the help of Tyler Somes and Joseph Sant, my family would not have woken up in our Staten Island home this morning," said Staten Island Legal Services client Mohammad Hassan. "Tyler and Joseph fought for me when Wells Fargo and HSBC tried to take my home. I moved to the U.S. from Egypt, started my own business, and bought a house on Staten Island with my wife and two children. My American dream took a setback when the financial crisis hit, my business began having trouble, and I fell behind on my mortgage. Although my wife was working and I began driving a taxi to make ends meet, we soon found ourselves in the middle of a foreclosure case. These experienced advocates helped me get a modification on one of my mortgages and pay off the second mortgage. Because of their help, my family went from the brink of homelessness to being able to remain in our home. The foreclosure epidemic has torn communities apart. These advocates deserve a fair contract so they can continue fighting to keep communities intact."
"Several years ago, my sons were having difficulties in their regular classrooms and needed a more intimate learning environment," said Darlene Diaz, a client of LSNYC's Bronx office. "Their school did not want to help and I felt hopeless to help my sons realize their educational potential. But Nelson Mar is an advocate who is committed to underserved clients and communities. All of these advocates understand that low-income families deserve access to justice as much as anybody. Nelson fought to have my sons transferred to a school that addressed their disabilities and allowed them to reach their potential. And I'm pleased to say that as a result my sons did much better in school. I have also become an advocate for parents like myself, and have referred many clients to Nelson over the years. It is vital that these community-based organizations retain long-term experienced staff who can develop and build community relationships while providing quality services to clients."
Clients and elected officials were also joined by community organizations that have collaborated with striking advocates in the past. "There has never been a more critical need in our city for experienced poverty advocates," said Sandhya Reju Boyd, Director of Brooklyn Jubilee, an organization that has taken a lead role in assisting Brooklyn residents hit by Hurricane Sandy. "Survivors of Hurricane Sandy must have quality legal services to put their lives back together. More than ever, our city needs these striking advocates and the quality services they provide."
Legal Services NYC has forced its employees out on strike for the first time in nearly 20 years and has taken the unprecedented step of cutting off employees' health care retroactively to the date of the strike. Workers are in their fourth week on strike since May 15, 2013, after membership overwhelmingly rejected demands for unprecedented concessions, including significant cuts to health care coverage for particularly vulnerable members and families, higher employee payments to health care premiums, a 29% reduction to 403(b) retirement contributions, and zero cost of living increases to salaries. At the same time, LSNYC expects at least $10.5 million in working capital surplus at the close of 2013, and recently became aware that it will receive at least $1.1 million in additional federal funding through 2015, yet refuses to guarantee that management will bear a proportionate share of any future layoffs that may become necessary.
Members remain committed to reaching an agreement that allows them to return to work providing high quality legal services to New York City's low-income families, elderly, and individuals.